The first line of defense against oral health problems
In general dentistry, the dentist is the primary care provider for patients of all ages and is responsible for the prevention, diagnosis and treatment of a wide variety of conditions, disorders and diseases affecting the teeth, gums and maxillofacial (jaw and face) parts of the body. Even though general dentists primarily provide preventative care and minor restorative therapy, they are often able to perform a wide array of other dental procedures, including some minor cosmetic treatments.
The American Dental Association (ADA) recommends that patients visit their general dentist at least once every six months to ensure proper oral health and functionality. Regular oral health check-ups and maintenance help to prevent the development of serious dental problems that may require more extensive and costly treatments. General dentists are highly educated and trained in multiple facets of dentistry, providing a variety of different services for you and your family including:
Crowns / Bridges
Dentures/ Partials
Dental Implant Restorations
Gum Disease, (Periodontal Management)
Preventive Services/ Teeth Cleanings
White Colored /Resin Restorations/ Bonding
Oral Surgery/ Extractions
Whitening
General dentists who do not perform a certain treatment will provide you with a specialist referral.
---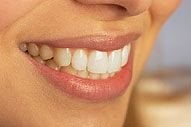 Overview

People choose esthetic dental procedures/surgery for various reasons—to repair a defect such as a malformed bite or crooked teeth, treat an injury, or just improve their overall appearance. Whatever the reason, the ultimate goal is to restore a beautiful smile.

For these and many other reasons, esthetic dentistry has become a vital and important part of the dental profession.

Common esthetic dental procedures can be performed to correct misshaped, discolored, chipped or missing teeth. They also can be used to change the overall shape of teeth—from teeth that are too long or short, have gaps, or simply need to be reshaped.

Some of the more common procedures involve:
Bonding - A procedure in which tooth-colored material is used to close gaps or change tooth color.
Contouring and reshaping - A procedure that straightens crooked, chipped, cracked or overlapping teeth.
Veneers - A procedure in which ultra-thin coatings are placed over the front teeth. Veneers can change the color or shape of your teeth. For example, veneers have been used to correct unevenly spaced, crooked, chipped, oddly shaped or discolored teeth.
Whitening and bleaching - As the term implies, whitening and bleaching, a rapidly increasing procedure, are used to make teeth whiter.
Which techniques should be used to improve your smile? A dental exam will take many factors into consideration, including your overall oral health.